Last Updated on 01/06/2017 by Chris Gampat
All images in this post are used with Creative Commons Permission.
The Foo Fighters take the stage and perform yet another show, this time in Quebec. Imagine the surprise lead singer David Grohl must have had when he looked down to the photographers' pit and saw…a cartoon sketch artist! Newspaper Le Soleil sent artist Francis Dersharnais to sketch the show instead of a photographer to protest the Foo Fighters' photographer's contract, which gave Foo Fighters all rights to any photos shot by the photographers.
The contract didn't cover drawings.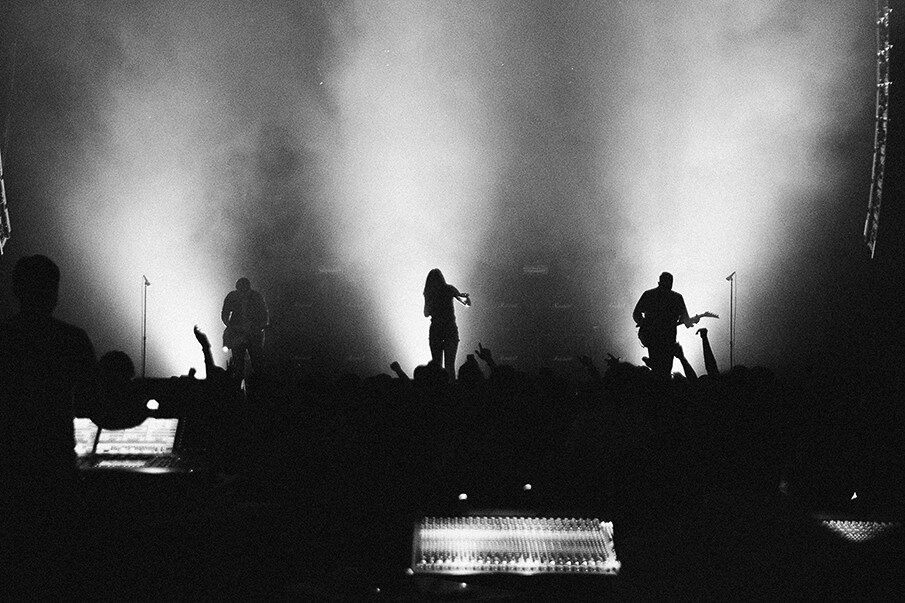 © Justin Block: Sleigh Bells, Atlantic City, NJ
This isn't the only instance where concert photographers' rights to their work were challenged by onerous contracts.
• In 2015, Taylor Swift was subject to complaints that photographers were expected to sign a contract that only allowed them to publish photos that were cleared by the tour's entertainment company. Swift's representatives reserved the right to delete images from the cameras of photographers covering her shows.
• Band of Horses, likewise, strips photographers of the right to use their photos anywhere in any manner unless management gives them permission.
• Photographers boycotted a certain heavy metal band's concerts because their photographer's contracts allegedly would not let photographers make any profit from their work at the show, according to a tipster that remained anonymous because the same contract said he couldn't make the terms public.

©Robert Ramirez: The Civil Wars, Tempe, AZ
These are extreme, high-profile cases where photographers and bands were at odds regarding rights to images made by photographers at concerts. Most artists are reasonable, and some high-profile performers, such as Janet Jackson and Ke$ha, for example, changed the terms of their photographer contracts to be more favorable, but if you're a concert photographer or want to be one, it is important to know your rights.

© Justin Higuchi: The Bulls
According to ASMP's executive director Tom Kennedy, "by choosing to seek onerous terms, the musicians are actually undermining their own case for support from the public and promoting a double standard that is very hypocritical, and that in turn makes their brand far less credible when they cry foul about music piracy."
Most photographers shoot concerts on spec, hoping to sell images to newspapers or web sites—or even to the band—as a way to earn income. What can you do to protect your rights so that concert photography can be profitable for you?

© Ray Dumas: The Absence
Who owns your photos?
First you need to establish who owns the rights to your photos: You do. Or at least, you should. Your creativity is what you're selling, and you should guard ownership of your original work vigorously. The way to do this is in writing, before you take a single picture.
How you approach protecting your photos depends on who is paying you to take pictures. It could be newspapers, magazines, blogs and web sites, stock photo agencies, or even the band itself. To their credit, your employees expect high-quality work from you, images that describe the performance creatively and clearly. They don't want a bad photo that could harm their interests. And so, they put wording in contracts designed to protect their interests, but these don't necessarily protect your rights to your work as a photographer.

Bands can hand you contracts that attempt to take away your rights to publish your photos of their performance. Don't accept such contracts! "The intent of copyright to protect and support the creative work of independent individual creators is routinely subverted and undermined by contract terms found in many photo contracts," notes Tom Kennedy,
There are specific terms in contracts that you should be aware of.
1. The Copyright Transfer
A typical example: if a contract says that the undersigned parties agree that all rights, copyrights, titles and interest in any photographs taken by Photographer for the Company belong solely and exclusively to Company free from any claims whatsoever by the Photographer."
They're trying to get you to give up all your rights, even if your photos end up not being used by the party in the contract. Instead, suggest an exclusive license, with the right for you to use the photos for your own promotional work, that the license only covers photos selected , and that the contract doesn't grant the company permission to license or sublicense your photos elsewhere.

© Mike Maguire: Swim Team
2. They Want it RAW
If a company asks for you, the photographer, to deliver RAW files and edited images, you risk ruining the integrity of your art. They may see your pre-edited work and decide that (a) it isn't that good (because you haven't done your Photoshop magic yet) or (b) that they'll do the post-processing themselves, where quality control is out of your hands. Instead, offer a specific number of edited high-resolution photos that you'll deliver upon payment.
3. Aggregated Aggita
Example: "Company X may offer license models and price agreements that will make Content available for use by Clients on a high-volume or other aggregated basis… the amount due to you will be determined, in Company X's sole discretion."
This gives the company permission to sell your photos on T-Shirts, publish them online, and not have to pay you royalties. It's a common stock agency term. Give them your rejects if you see this wording and save the good stuff for yourself.

© Robert Ramirez: Matt and Kim, Tempe, AZ
4. Immoral Rights
When you do something creative, you expect to be credited, except when used in commercial work such as ads. If your photos are published in a magazine or online, they should have a photo credit. Insist on a higher fee if they don't do photo credits.
5. Vague Language
If you see "Photographer shall be permitted to photograph the event and Company shall be granted limited rights to the use of all photographs taken at the event for online or offline use," good luck figuring out exactly what that means. To avoid misunderstandings, suggest changing the wording to be as precise as possible. For example, you can say "for use on Band X's web site, URL.com, only" for example. You can also limit the timing, so rights revert back to the photographer after a certain amount of time has passed.

© Robert Ramirez: Black Keys, Phoenix, AZ
Fighting the good fight
ASMP (The American Society of Media Photographers) has worked with photographers and pop music acts to modify restrictive photographers contracts while protecting the artists' legitimate concern about losing control over their image. For instance, Taylor Swift modified the contracts mentioned at the top of this article in July 2015. "The amendment of the 1989 World Tour photography agreement by Taylor Swift and her PR team tacitly acknowledges the value of professional photography and the press in shaping public perceptions," noted ASMP Executive Director Tom Kennedy at the time, "Clearly, photographers are equally deserving of respect and have the same need to monetize their work as musicians."
Overall, read contracts carefully and don't be afraid to express your concerns with the band, publication, promoters—whoever you're hoping to work for. You don't need to make it a confrontation but you may need to negotiate for better terms. Your leverage? Being willing to walk away.
© Martin Hesketh: The Sex Pissed Dolls