Last Updated on 07/27/2017 by Chris Gampat
To say that working with the Zeiss 35mm f1.4 Milvus lens isn't a dream in many ways is an honest to goodness understatement. The new lens, which was announced earlier last month, is one of the latest options on the market. Zeiss touts the image quality to bt so good that they're even specifically marketing it to portrait photographers. So if it's good enough for portraits, then it has to be good enough for Urban Geometry. The Zeiss 35mm f1.4 Milvus has weather sealing, a rubber focusing ring, a metal exterior, and an overall pretty fantastic build quality. Zeiss optics have always been pretty contrast heavy, and so it genuinely made me wonder how it would fare with a fine grain, very sharp film like Fujifilm Acros 100. Indeed, Urban Geometry is oftentimes displayed in black and white. So why not just try to do it in-camera with no editing otherwise?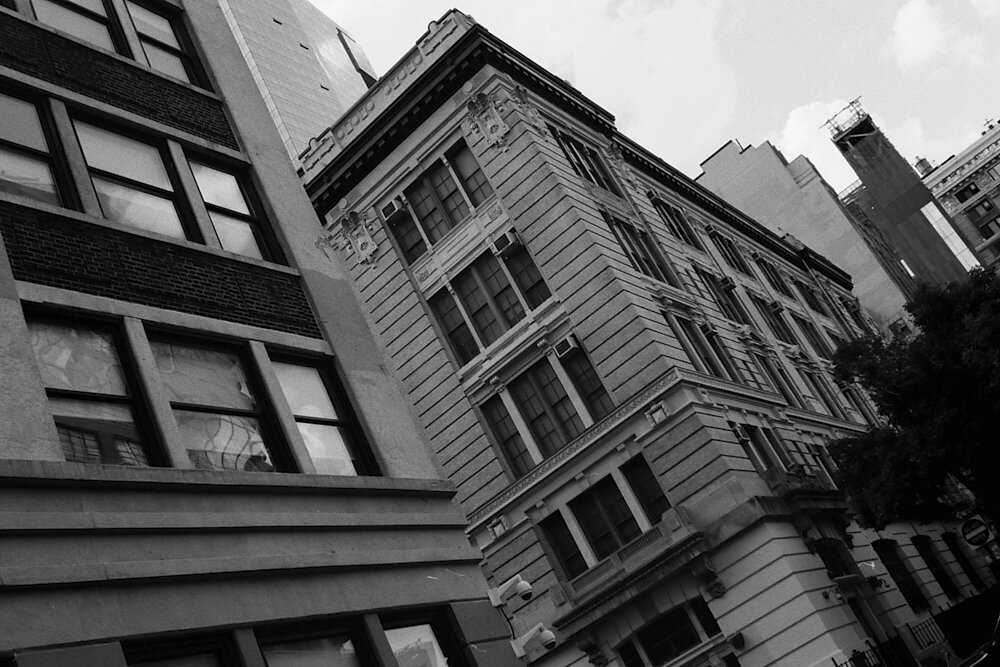 Like much of Urban Geometry, there often isn't any sort of real reason to focus your lens. You're best off just focusing out to infinity, setting the camera to aperture priority, pointing and shooting. If anything, Urban Geometry is more of a unique artistic viewpoint of the photographer captured in a creative way. It uses lines, shapes, tones, lighting, highlights, shadows and geometry to create visually pleasing images where the eye tends to wander in addition to being led around.
Zeiss lenses lend themselves exceptionally well to Urban Geometry–especially in the case of their wide angle glass. The wide angle lenses have stronger contrast than a lot of their telephoto lenses. Though telephoto lenses limit you can do when it comes to Urban Geometry, their nature and the use of them is similar to landscapes where one can sit there and really bring attention to an abstract part of a scene. With a 35mm f1.4 Milvus optic though, you're going to focus essentially on what the human eye can see.
Luckily, when paired with a camera like the Canon 6D (for the digital folks out there) or in this case the Canon EOS 33 the combination is very lightweight. Of course, a Leica is lighter–and so is almost anything else. But there isn't anything that would hamper your shooting efforts on a hot day in Manhattan.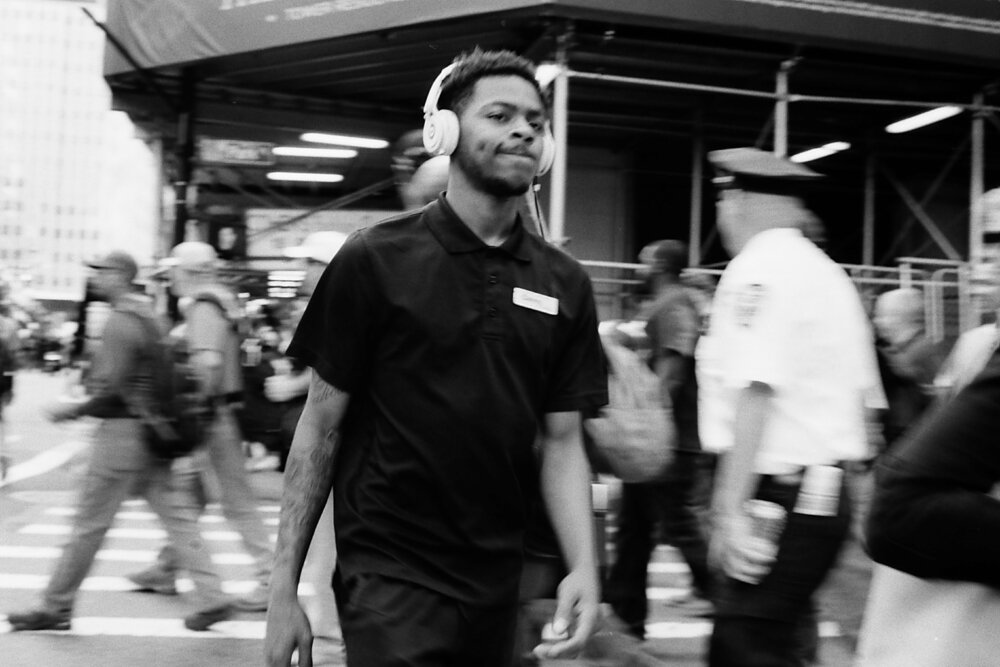 So then why use a Zeiss? Why not any other lens out there? Well, any other lens could surely have been used. In 2017, pretty much every lens made currently is great in one way or another. But the Zeiss lens and manual focusing abilities lend themselves to a photographer taking different photos and carefully thinking about the scene, composition and focusing that they're aiming for. It's a very deliberate and slow process. Combine this with the limitations of only having 36 images on a roll of 35mm film and you're bound to act carefully.
Since the Phoblographer LLC is based in NYC, the combination was tested there. Big cities lend themselves to urban geometry well due to the way that architects specifically design buildings.
Using film puts a whole other level of challenges on you that digital just doesn't do. Besides its limitations with how many images you can take to get the right photo, you'll need to always pay attention to the light around you. In situations like that, you're best simply using the exposure compensation dial, framing, composing and making adjustments as the light changes. As you walk through a city, different beams of light tend to go down the streets, reflect off buildings, etc. As this happens, you'll need to adjust your settings accordingly.
On top of all this, you'll need to consider how Fujifilm Acros 100 works. This isn't a super high contrast film but instead has a more standard contrast level. Of course, this also depends on how you develop it and then scan it. But when working with it using standard black and white processing, all you'll need to do is carefully consider your creative vision. Here are some questions that should go through your mind:
What aperture and depth of field do I want?
What sharpness do I want?
Do I want this photo to emphasize the shadows more or the highlights?
How high contrast is the light in the scene?
What colors are involved?
What about their tones?
Where is the light coming from?
Luckily, the Zeiss 35mm f1.4 Milvus can keep down the effects of direct sunlight pretty well. In fact, it sometimes is pretty difficult to make the lens flare. If you're a person that loves lens flare, then this can be a bit of a downer.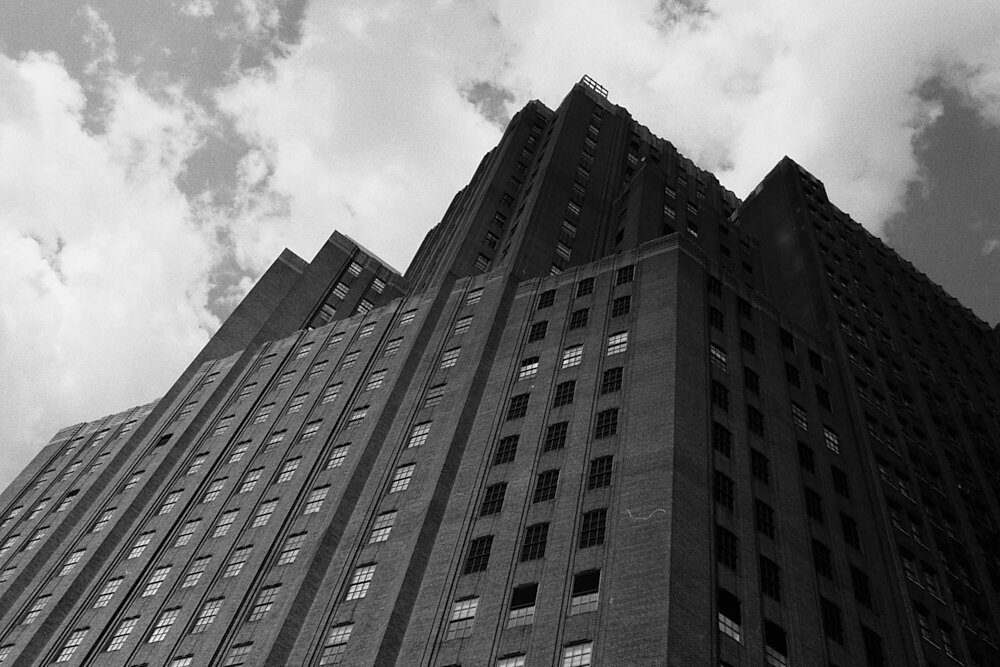 When working with Fujifilm Acros 100, a great idea is to also learn how to see and think about the world in black and white. That requires a lot of training, editing, and shooting. But it also needs to come with a bit of understanding and empathy–or at least that's what I want to say I guess. Empathy in this case is in regards to the film and how it acts. It has its own unique character and so too does the lens. Knowing and becoming sensitive to how it will react when a certain scene is placed in front of them and when acting according to your light metering abilities can help you capture a scene that you really, truly want.
To reiterate, this is where Urban Geometry excels. You're often looking for the most artistic plays on shapes and more in your environment. One exercise that I often tell workshops students is to imagine that the scene in front of you is a black and white painting or a charcoal sketch. How would you render that?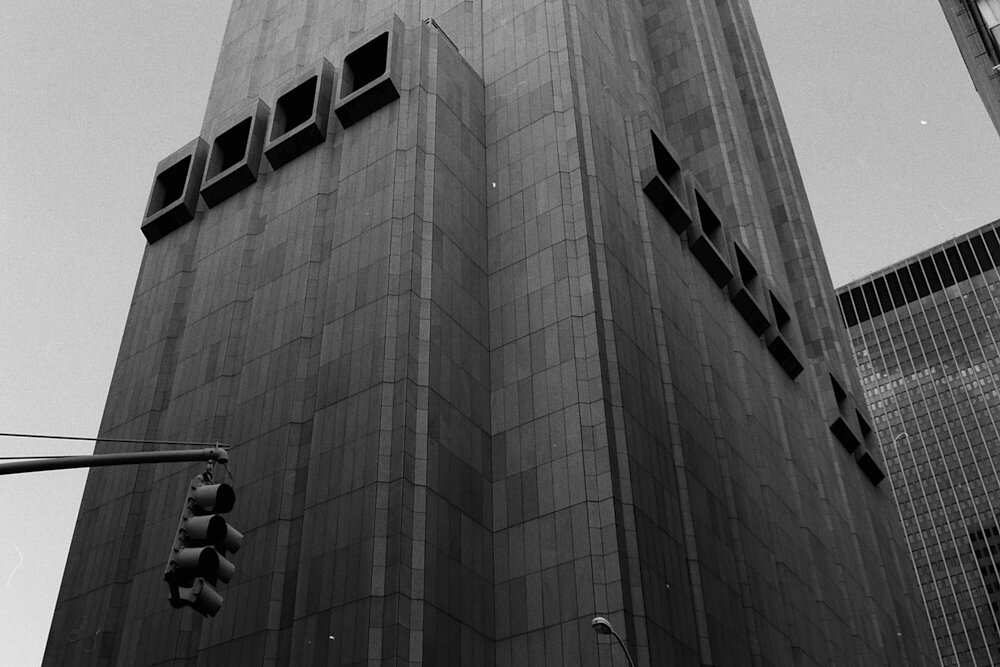 Of course, both Fujifilm Acros 100 and Zeiss optics have been tried and true for years now. Many photographers tend to reach for other options such as Kodak Tri-X simply because it can be exposed with a bit more versatility. But Acros can arguable generate a sharper negative with its finer grain and lower ISO standard.
With photography being what it is these days though, this setup is about more of a personal experience and working the mind more to get great results. You're probably best off underexposing at times–like when the sun is stronger and even so Fujifilm Acros can hold a lot of shadow detail even despite Zeiss's already high contrast optics. What you and every photographer can easily keep in mind though is that the experience of using great gear like this is fantastic. But there isn't often a reason for you to actually use one piece vs another. With Zeiss though, you'll be forced to pay a lot more attention to a scene by manually focusing and being methodical. Think of it as a meditative process if you will where you'll need to concentrate. But once you reach that point of zen, you'll have no issues shooting beautiful Urban Geometry images.
* Big thanks to Lomography for developing our Fujifilm Acros 100 film emulsions. Zeiss loaned us the Zeiss 35mm f1.4 Milvus lens for a while and the Fujifilm Acros 100 film was purchased at the Fujifilm WonderPhoto Shop.