Last Updated on 09/03/2016 by Chris Gampat
Fact: No photographer wakes up one day, figures out exactly what kind of style they want to shoot and makes their impression on it. Instead, they go out and shoot every second that they possibly can–which results in a never-ending experimental approach of finding something that works for someone as an artist.
Some photographers have various styles after shooting for a long time, but other photographers never sit there and really think about it. Part of this development of style comes from working on projects and finding trends in your work. But it can also come with full intent on your part as a photographer. In fact, doing projects and specifically shooting for them is one of the best ways to help you and your brain develop a style. Despite this, many photographers only go through their work later only to find these trends. No matter what though, finding your style in the genre can help you market and spread your work by making it more understandable to everyday folk, editors, curators, etc.
Go Out and Shoot

The best way to start out getting a better idea of what type of work you want to do is to just go out and shoot every day or any time that you get the chance. However, stick to a specific schedule or a certain amount of hours each week. Make these hours count too–make sure that there is some way or another that you progress as an artist.
Realize that you don't necessarily need a dedicated camera these days. Loads of awesome photos are shot on phones these days and they images can look even better with some sort of Instagram filter or edit done to them.
Some of the key things to do involve going out and trying new ideas and methods. Here are just a few:
Photographing people as they come towards you
Looking for exact, emotion driving moments
Urban geometry: finding sense in a scene through shapes
Sticking to a single place and waiting for something awesome to happen in that spot
To find more ideas, try researching the work of many of the great photographers and dissecting them–figure out what they did to create that shot in the real life moment.
Every Six Months, Look at Your Entire Body of Work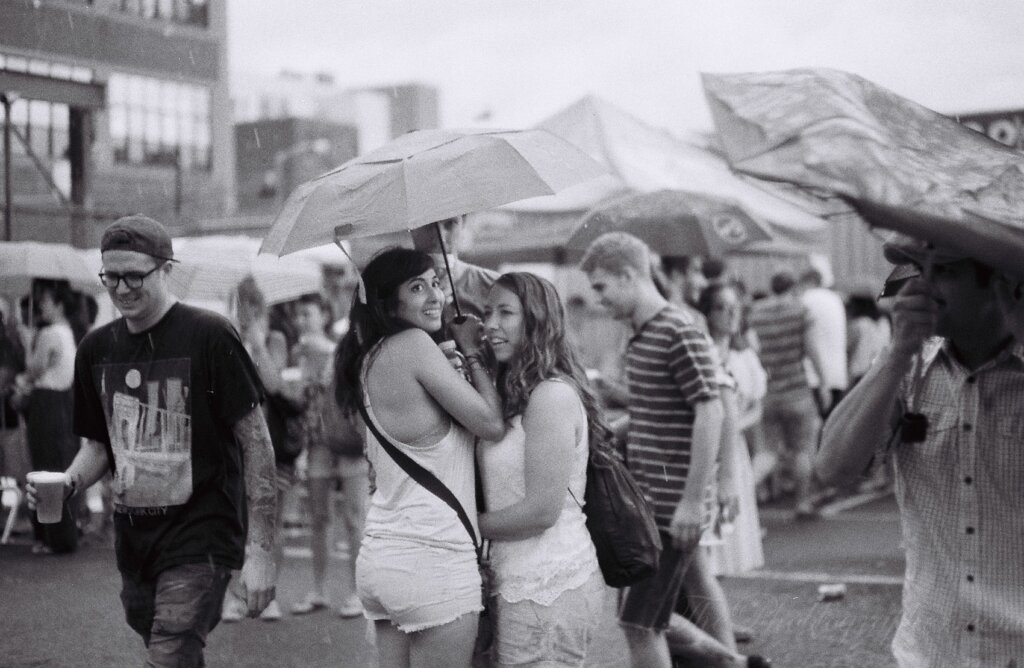 Nothing is more important than constantly reviewing your portfolio of work. This task can sometimes be tougher with street photography, but it will greatly aid in helping you find your specific style of work. If you've been shooting for a long time, maybe go through all of your work and sort them into various piles:
Excellent
Can be made excellent with some editing
Okay
Not sure what can be done to fix this shot
Hell no, I'm better than this
As you go through your body of work that you've been shooting every moment you get the chance, you'll also probably be able to set specific goals for yourself like going out to shoot more, making a conscious effort to not photograph someone's back, stop using the clarity slider so hard, etc.
Find Trends in Your Work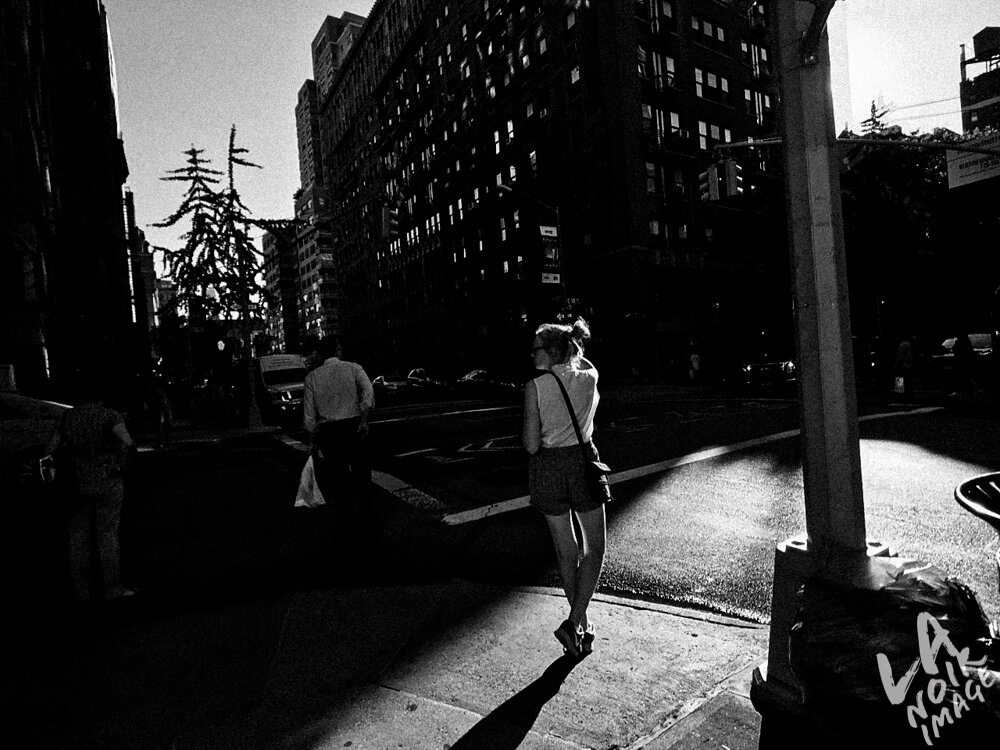 As you go through your images, you'll of course be your biggest critic if you are truly dedicated to improving. You're bound to find trends in your work, and that's absolutely okay. In fact, I encourage it! These trends mean that in real life shooting situations, your mind's eye gravitates towards different things that it finds visually interesting. A variety of factors can lend themselves to this such as your environment, your ability to get close to someone, your willingness to get the shot, your idea of beauty, shapes, contrast, etc.
Every photographer that was famous in the street photography world has had some sort of trend in their portfolio. Photographers like Bruce Gilden are well-known for using flash to get the details that we'd otherwise never see while Cartier-Bresson loved seeing the world in shapes. These helped to define their work and who they are as artists.
These aren't clichés–they're your style and you should be proud of it.
Identify Your Style, and Stick With It
Once you've got your style defined, you can go back out with intent knowing who you are as an artist. This then comes with you looking for challenges and creatively figuring out ways to get exactly what you need for your images or to really adhere to your style of work. Work these trends for a while  and give it a considerable amount of time for you to actually grow into that new skin a bit more.
Evolve as an Artist When You're in a Creative Rut

Finally, we've come to how you continue to evolve as an artist and not necessarily known for just one thing. Unfortunately, this is also where some photographers end up quitting altogether or never growing at all.
Every photographer ends up finding themselves in some sort of creative rut. It can be related to work, depression, feelings, time, etc. During this time, every photographer ends up hating their work. When a photographer hates their work, they sometimes take a break from shooting–which works well if you eventually come back to it. But you can also continue to grow by trying new things and experimenting. This is where photographers begin to start branching out with new ideas and new techniques to try. Like all art, it's all about experimentation.
"Photographers like Bruce Gilden are well-known for using flash to get the details that we'd otherwise never see while Cartier-Bresson loved seeing the world in shapes. These helped to define their work and who they are as artists.

These aren't clichés–they're your style and you should be proud of it."
This is something that is most common amongst portrait photographers, but in regards to street photography, there are many different approaches and routes you can take to make something more effective and a great learning opportunity. In fact, it can even help you create something totally new that no one has ever done before–therefore inspiring the next generation of street photographers if you push the work out there accordingly.
Another way to get out of the rut–go to the library and look at the work of other photographers. There is something to be said for the printed image and allowing yourself to slowly pour over and observe it by listing various aspects of the photo. This can't necessarily be done behind a screen because of the immediate and crazy nature of the web constantly pinging you for attention. But when you genuinely let all the other distractions go, you'll see how much more you can focus on your artwork.
You may even find this aspect of the rut to be therapeutic.