Last Updated on 01/03/2017 by Chris Gampat
Are the 90s making a comeback? Apparently millennials are whistfully hearkening back to those good old days, when a Clinton was president and the tech bubble hadn't burst. And if you lived your life through music videos, you know that there were plenty of videos shot in black-and-white. Here we break down eight iconic B&W music vids and show you how you can emulate the style in your photos.
Natalie Merchant – Carnival
If street photography were to have an anthem, "Carnival" by Natalie Merchant should be on the short list. The video itself is an homage to street photography, complete with Natalie walking the streets of New York, Leica M-3 in hand, attempting to photograph both literal and figurative carnival scenes. Alas, most of the photos she shoots, interspersed with the footage of her taking those pictures, are embarrassingly out of focus—a compelling argument against multitasking. Nevertheless, the black-and-white footage showing the grit of New York street life is compelling enough to make a would-be street shooter's mouth water.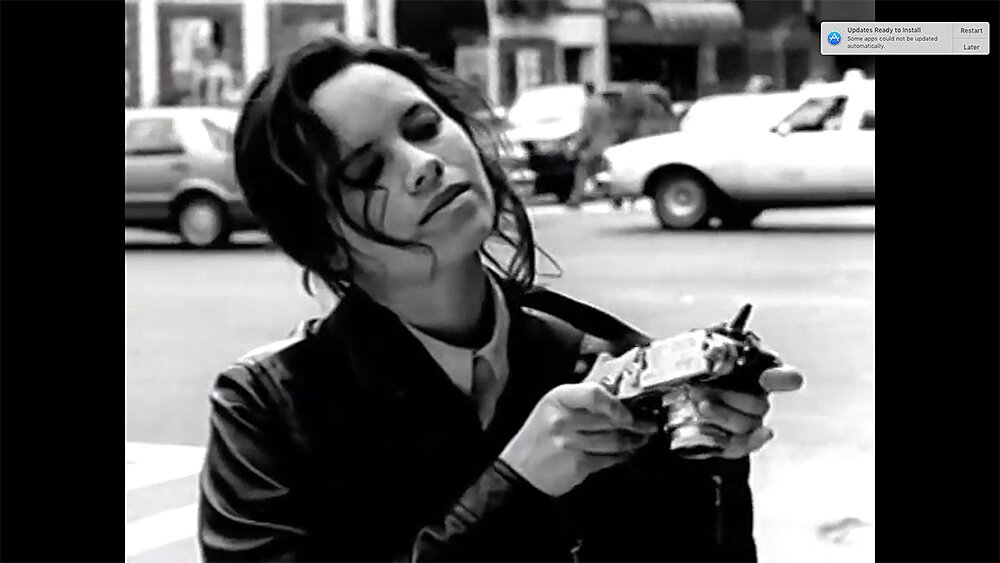 With street photography getting attention now thanks easy image sharing, this video is a nice opening gambit, but if you're looking for inspiration, you might want to watch videos of actual street photographers like Garry Winogrand, Joel Meyerowitz, or Jeff Mermelstein at work. Even better, take a course at BPSOP or Udemy.
Madonna – Vogue
Madonna's bouncy, disco-influenced dance-pop ode to surface beauty got the black-and-white treatment by director David Fincher, taking its visual cues from choreographed dance musicals from the 1920s and 30s to create an award-winning music video in 1990. The video opens with a combination of statues, paintings and dancers in frozen poses, mostly lit with a single light source against a black background, creating a stark, compelling visuals. When Madge turns around and says "Strike the pose", flook in her eyes. You'll see the key light source is a ring light, along with a rim light on her hair. This became an iconic look, emulated by fashion photographers for the rest of the decade.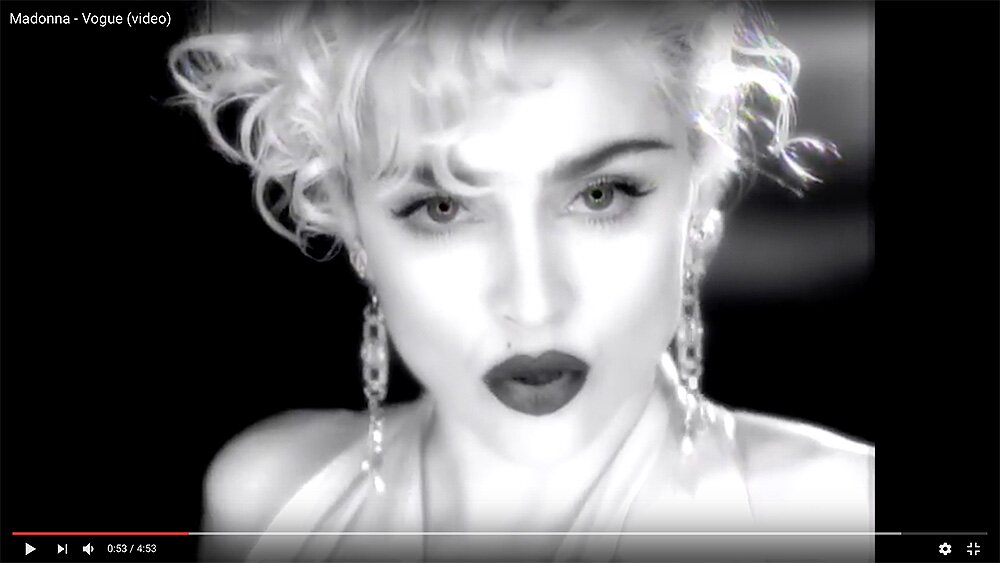 There is a lot of dramatic, angular lighting and a lot of interplay between light and shadow in this video, both on the models and on the backgrounds. This is partly achieved by placing lights at near 90-degree angles from the camera. In some cases, faces turned towards the camera are in complete shadow but when the model turns to either side their faces can be seen clearly. There is just enough modeling of the light to indicate the use of umbrellas to widen and soften the light source. Watch the video and note how the light falls on faces and backgrounds, and try playing with your lights and models until you get similarly dramatic effects.
Give It Away – Red Hot Chili Peppers
Photography's influence on music videos is felt strongly in the video for Red Hot Chili Peper's most recognizable hit, its ode to altruism, Give It Away. Directed by fashion photographer Stéphane Sednaoui, the video features the band bare-chested and painted with silver acrylic, a look Sednaoui took from a previous still photo fashion shoot. To further the visual "heavy metal" pun, band members are shown playing reflective silver instruments and wearing metallic-like clothing. Shot in a sparse outdoor location, the upbeat, lively shooting style reflected the frenetic pace of the music, and won two MTV Video Music Awards in 1992.
Wide-angle lenses play a key role in this video. Sednaoui uses their innate generous depth of field characteristics to maintain near-to-far focus while placing subject matter both close to the camera and farther away. He also placed cameras at extreme low angles, rendering much of the imagery not safe for work. The lighting is harsh, and the recording process is high-contrast. On-camera flash and high-contrast B&W settings (or emulating that in post-production) should give you a similar look.
Wu Tang Clan – Protect Ya Neck
A look at Monochrome 90s videos wouldn't be complete without a gagsta video, and Wu Tang Clan's Protect Ya Neck is a prototypical example. The video is not totally black-and-white; color footage is interspersed throughout. The black-and-white footage takes a Cinéma vérité approach, using natural daylight and directional lighting at night to emulate streetlight. The resulting imagery is gritty and harsh, reflecting the lyrics that reflect the need to protect oneself in a violent culture.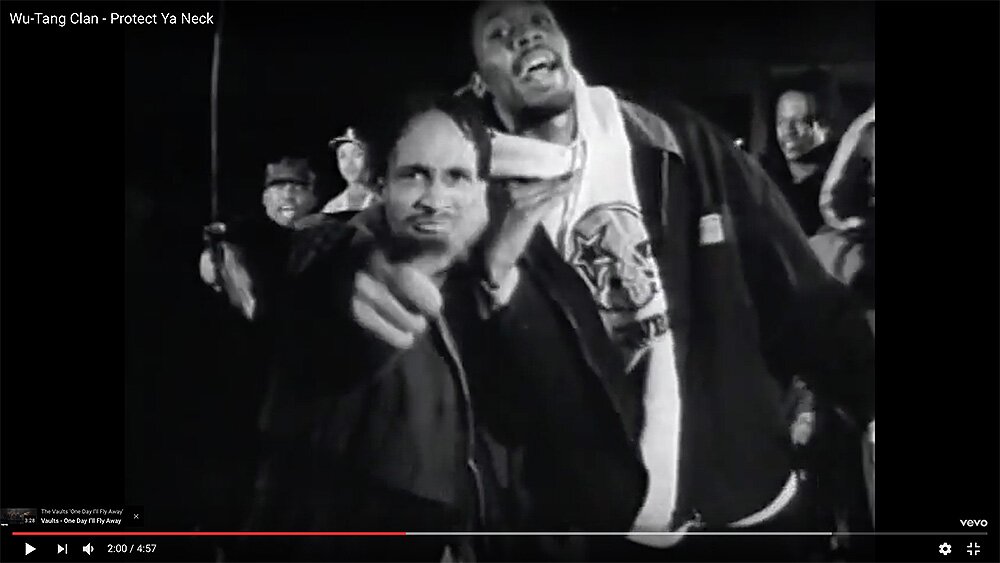 For a photographer looking to emulate this video's look, one or two off-camera flashes without reflectors can do the trick. Of equal importance is location. Brick walls, alleys, places with graffiti are all good for getting the look and feel of this visual style. Stay away from suburbia—you need an inner city vibe here.
Mr. Mister – Broken Wings
A number one single, Broken Wings' video was directed by Oley Sassone and consists of three disparate elements: Lead singer Richard Page driving a Ford Thunderbird (Get it? Bird? Broken Wing?), solo shots of Page singing while sitting by a window, footage of the band miming the song, and, oddly, waist-down footage of a couple dancing the tango. The imagery of Page driving and the band performing are not as interesting as the dancers or Page by the window, both shot in the same place. Visual bird and wing references abound.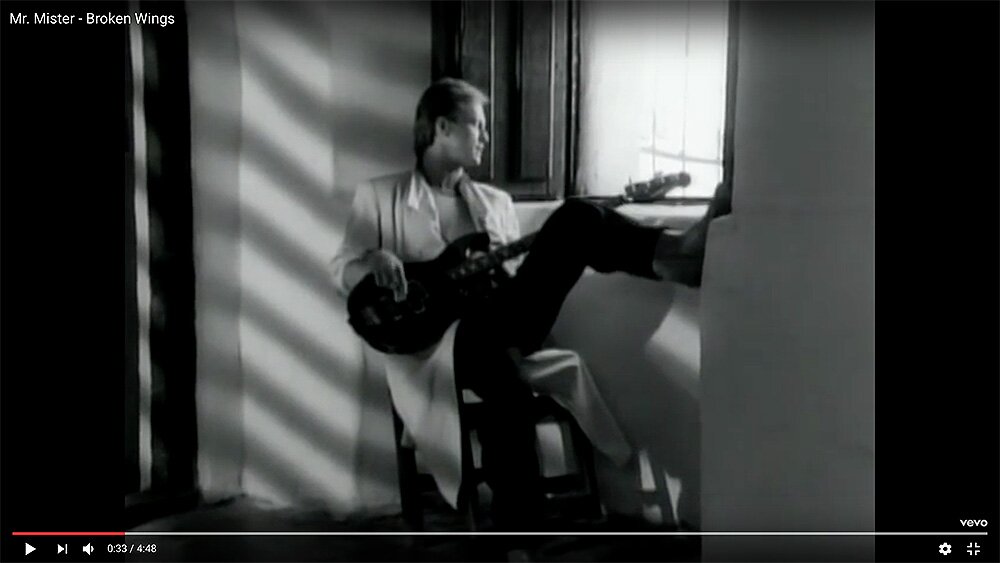 In the image of Page by the window, directional light is shining through the blinds (from a different, unseen window to the left), while he sits facing the window on the right, which is illuminating his face. This effectively provides cross-hatch lighting, with an area of darkness down the middle of his face to create a compelling look. The dancers, meanwhile, are also lit from the side and back, with the tile floor and adobe hut look providing interesting atmospherics that contrast with their dance outfits.
k.d. lang Constant Craving
k.d. lang's award-winning Constant Craving yielded a video ode to Becket's Waiting for Godot that won the MTV 1993 Music Video Award for Best Female Video. The video inter-cuts footage of a recreation of a performance of Waiting for Godot with lang singing alone backstage among the props. Directed by Mark Romanek, the video uses theatrical lighting both for the play and, more subtly, for the footage of lang backstage. But the camera angle changes and one of the characters is seen from behind, dramatically lit from the front.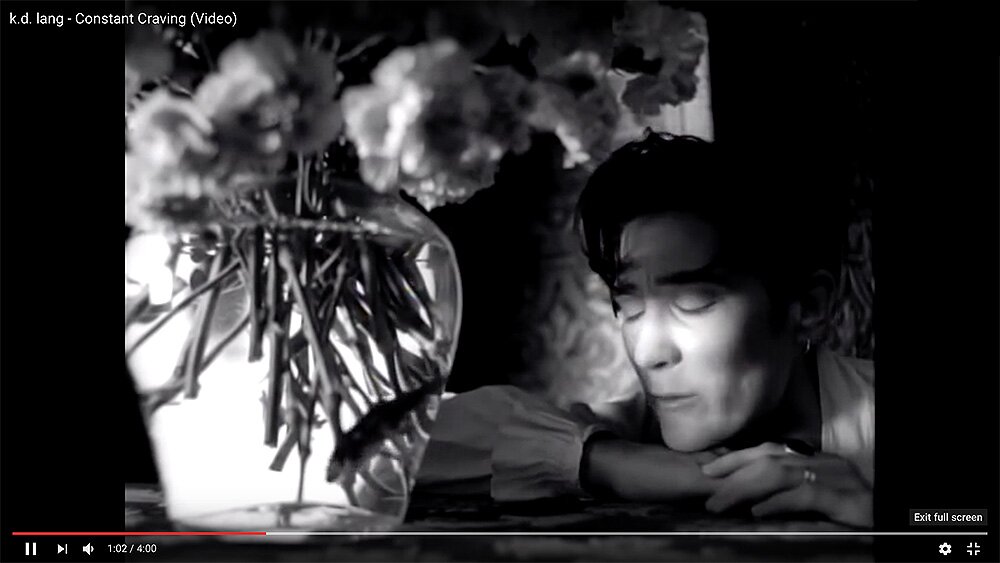 The secret to emulating the visual style of this video is to have a working knowledge of theatrical lighting, which is generally highly directional and frontal. Conversely, the backstage scenes are more like environmental portraits. The fishbowl scene uses highly directional lighting, just on lang's face, with backlighting illuminating the fish bowl. A multi-flash setup with each flash pointed at significant parts of the scene is the way to go here.
Stone Temple Pilots – Creep
It's in D-minor, its pace is dirge-slow, and the video is full of depressed, isolated, sad souls. It must be grunge—a musical genre that no 90s video wrap-up can be without. The video takes place in a home; as the band sitting around the kitchen table the camera zooms in on Weiland as he sings, and we then move on to other scenes around the houses.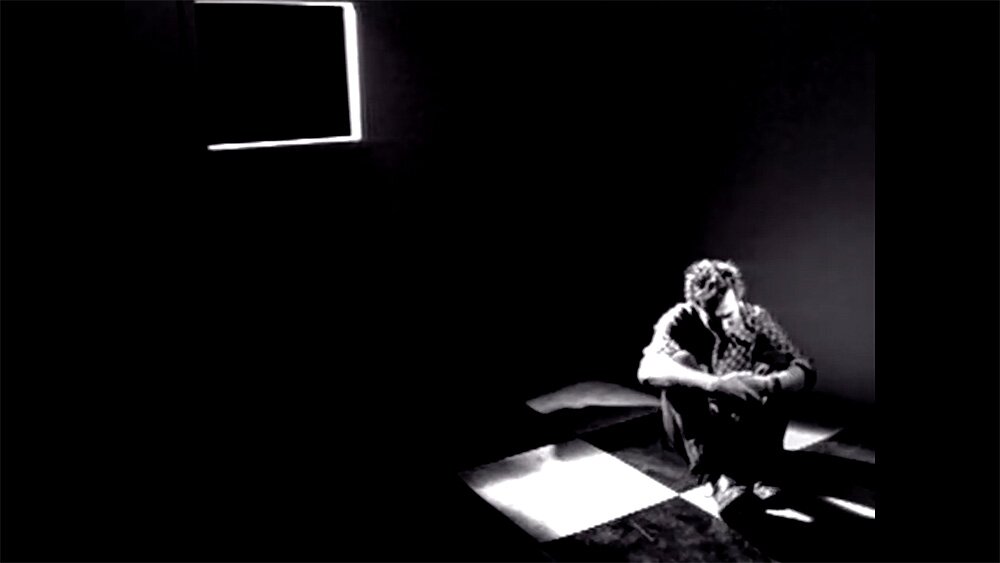 The most compelling visual in this video is of Scott Weiland in a dark, sitting on the floor of a barren room, with a blacked-out window and minimal lighting, rocking back and forth. Two harsh light sources come at him from either side, leaving a portion of his face in deep shadow. If you're going for angst, this is the way to do it.
Mariah Carey – Anytime You Need A Friend
Far be it for me to leave you on a sour note; instead, let's end this 90s B&W music video throwback with Mariah Carey's warm-hearted, gospelly "Anytime You Need A Friend." A straightforward video, it shows closeups of Carey and her singing with a choir on a stairwell, inter-cut with New York City street scenes. There is also a scene where Carey is singing outside, against a cloudy sky, lit an off-camera light almost dead-on.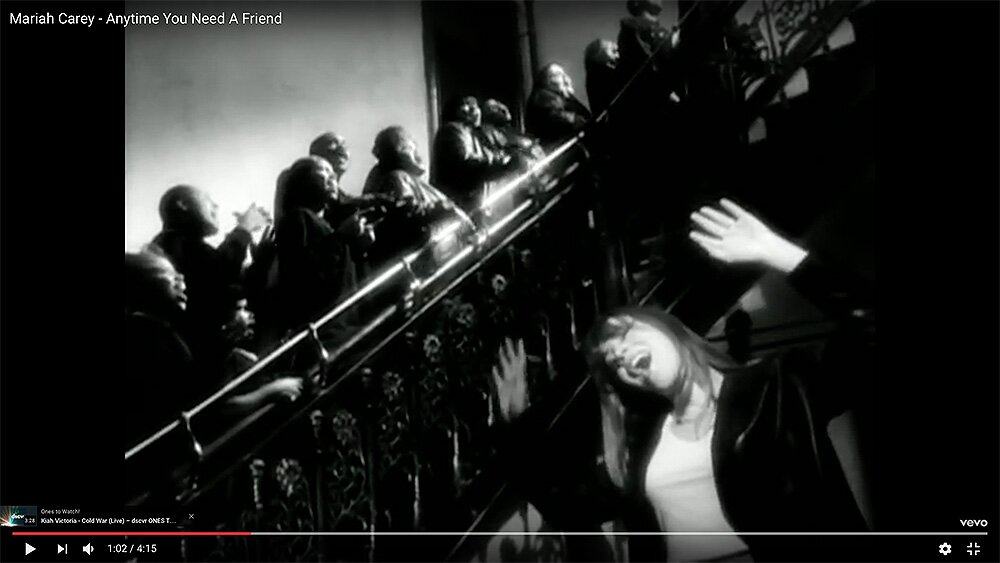 The image of Carey singing with the choir is iconic. There are two main light sources—one from above shining on their upturned faces (religious significance, much?) and another spotlight on Carey herself against. The effect is dramatic, and somewhat etherial.
Hope you enjoyed our Wayback machine visit to the 90s. And now, back to 2017.
Video out.