Last Updated on 09/04/2016 by Chris Gampat
Some of the best are the ones we don't know about.
I was truly impressed by what I saw while scouring Instagram to show you ten mostly monochrome street photographers to inspire you this month. The thing that excited me most was just how many people are making work like this, and how diverse and interesting street photography really is. In the tradition of the great street photographers of earlier decades, there are people all around the globe adding to the visual record of person, culture, place, and architecture and sharing it with their fellow photographers and humans. Here are some mostly black and white feeds that you're bound to find particularly inspiring and some reasons why.
Timi Abudu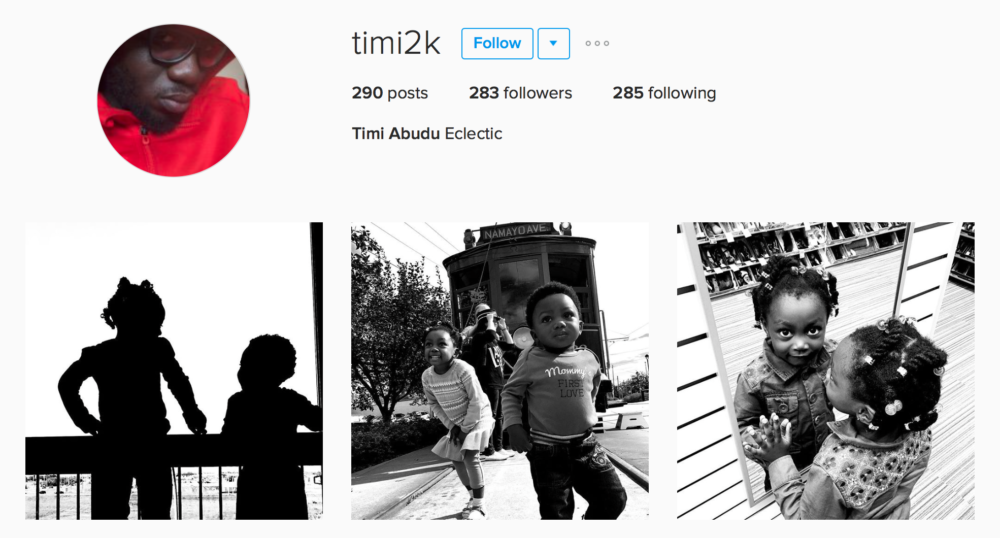 Timi Abudu's honest imagery provides a glimpse into his world, which seems like many worlds. Oftentimes we're looking slightly up at subjects which don't see us. There is an earthiness–a texture to these pictures which seems to ground them firmly in reality. Sometimes it's architecture, sometimes two men in a room completely covered by graffiti, and sometimes it's a delightful slice of life like a baby smiling with her father, but no matter the scene, these photos are strikingly real.
Walter Rothwell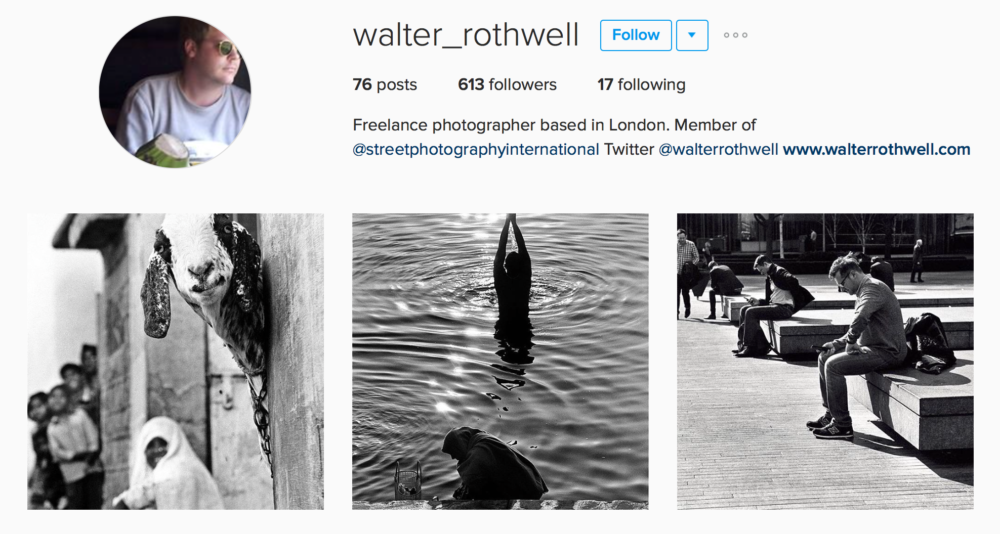 There are both motion and mists in the street photography of Walter Rothwell which tend to make the pictures seem a bit mysterious or otherworldly. This idea is enhanced by the fact that in many frames the identity of the subject is not visibly clear. The photographs very much seem like captures in the moment, frequently amid action such as children frolicking wildly in a fountain. Other images have much more quiet tones, such as a bird floating gently in the bottom of one frame. It's clear that in the eyes of Rothwell, London is always moving.
Cosmicfishies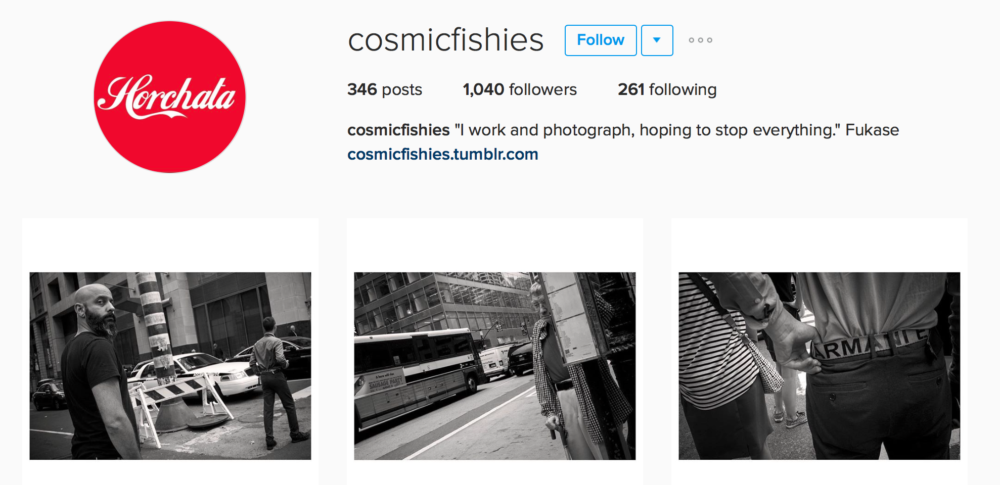 Cosmicfishies has an eye for detail in the streets. Tattoos seem to be of particular interest, as they are frequently noticed and captured in an artful way. Similarly, there is careful attention being given here to gesture: the way someone leans, or a particularly tender embrace becomes the subject of the photograph. Windows in these photographs are reflective portals, and repeating patterns of the city are recurring visual themes as well.
Harirai Ji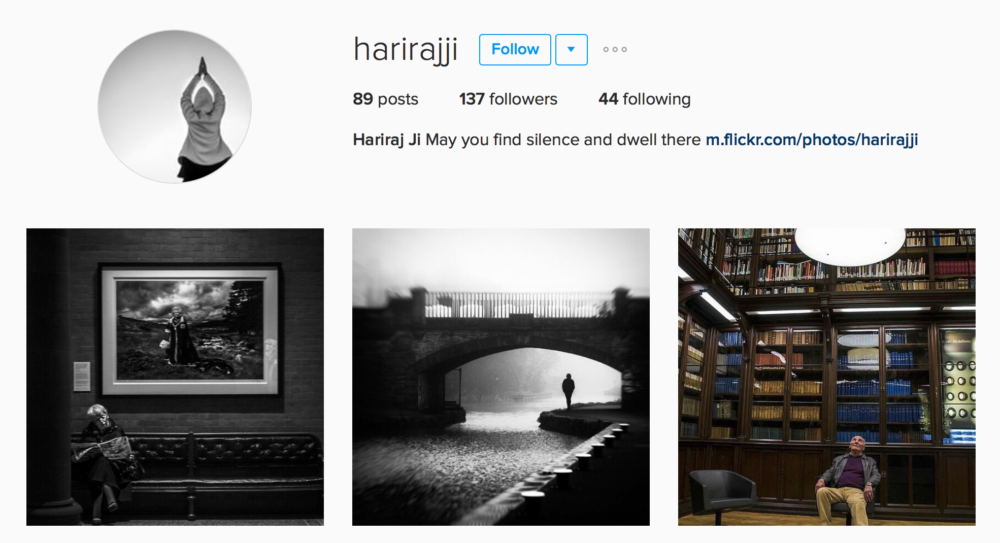 These dark, contrasty images have a silence to them, but the description of the account leads one to believe it's a comfortable, hospitable silence. Hariraj Ji uses space in an expansive way. In one picture, a lone silhouette passes under a bridge in the mist. There's a grace in these photographs, a softness. Her landscapes are just as painterly as the soft tresses of hair she has framed delicately from behind. Expansive images of clouds add a further surreal element to these works which invite us to explore this artful approach to the world.
Skoulakis Giannis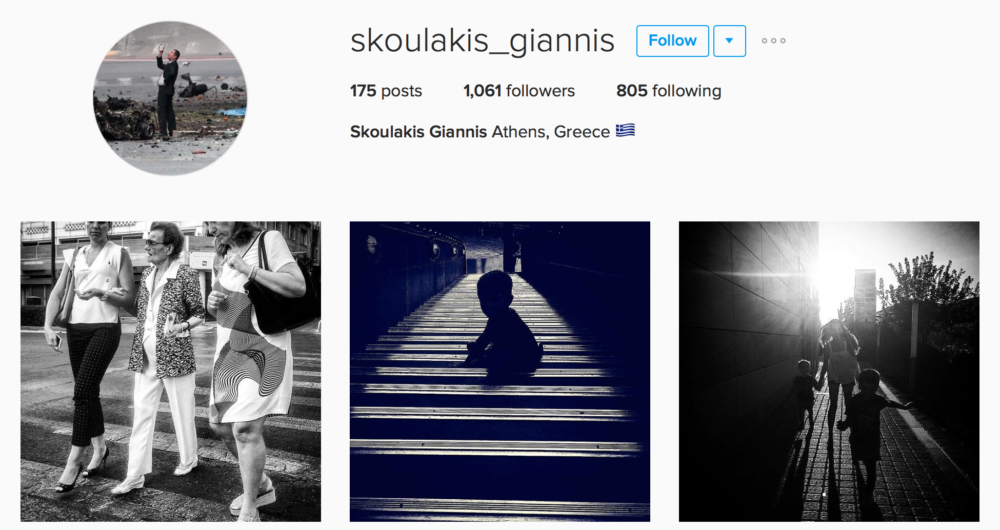 From Athens, Greece, Skoulakis Giannis presents views of a variety of interesting subjects. Some recurring themes are doors and stairs. The doors are very interesting; one is overgrown with flora, one seems quite sacred. People young and old smile at his lens. An angel statue ponders the sky. These photographs are a delightful slice of life, in a view which seems optimistic and lighthearted. Kittens and goats also make appearances in these images which seem to be such a pleasure for Giannis to make.
Ryan Davies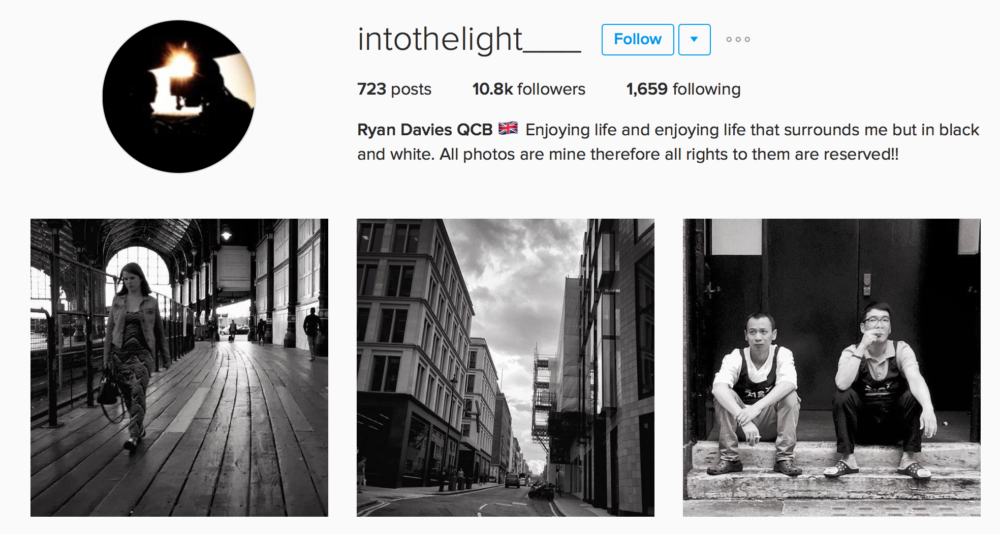 Ryan Davies' formalist approach to his Instagram provides a wonderful and consistent street photography inspiration. There's tons of rich and intimate moments here, bathed in enchanting light– sometimes his subjects look boldly into his lens, and sometimes they don't notice him at all. Linear geometry of spaces drives the composition of his images. Spaces are divided into distinct bands of light and dark, with adds a great deal of space to these could-be narrow streets.
Farzad Abdollahi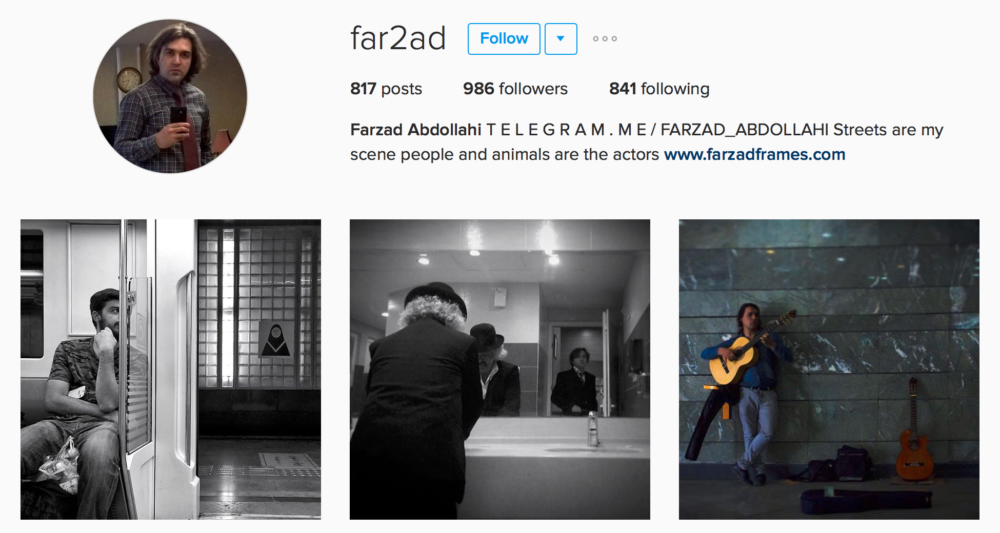 Farzad Abdollahi creates work with a compelling use of light and shadow in a lot of instances. Frequently, he photographs the way a shadow falls just so across a surface, or leaves the figure a silhouette against the bright sea. Life as he is quietly observing it is happening calmly – beach scenes are intermittent in the gritty cityscape he shows us. His subjects are generally unaware, he is a passive observer. He captures the various text and textures in his urban space with an eye for the way they overlap in layers.
Stig Leonardson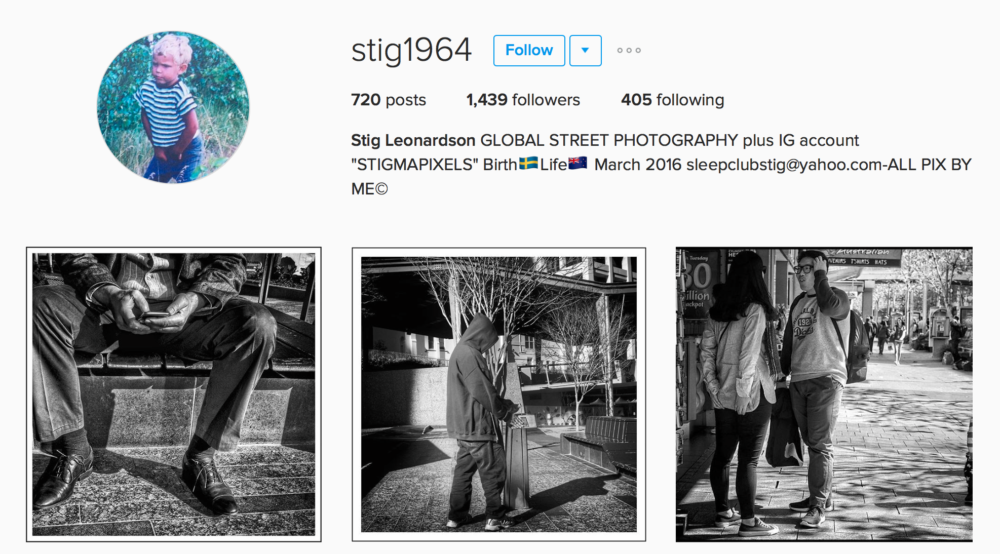 Some photographers' work seems to be driven entirely by straight compositional lines. In the same vein, lately Stig Leonardson seems to have a particular fondness for documenting curves, for showing us the way his world waves and flows. He has a bold approach to some portraits, where we are allowed a pleasantly detailed view of a subjects face whose gaze is unassuming if not vulnerable. Shapes and patterns of the street make his work very dynamic, especially when viewed in the gridded view of Instagram.
Jussi Kapanen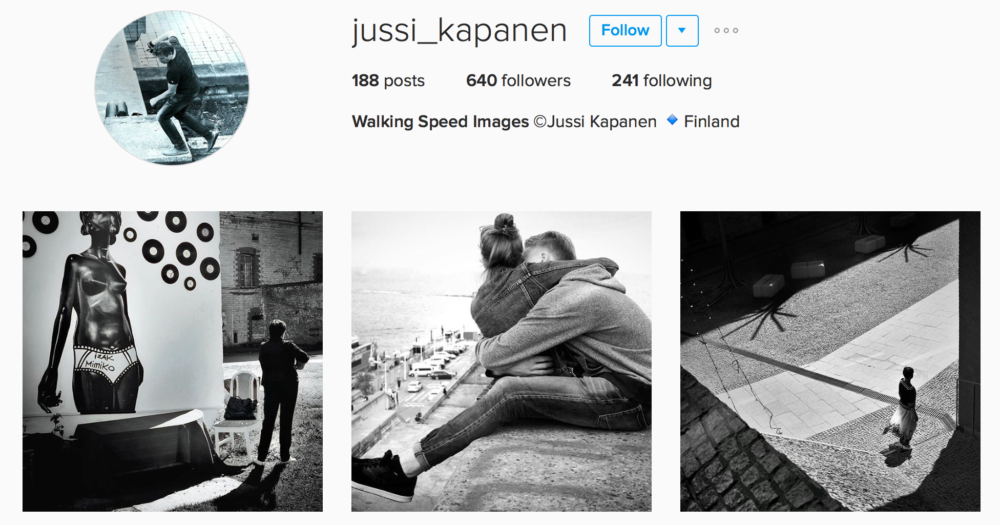 Jussi Kapanen's work has a youthful quality to it – perhaps because frequently they are very familiar photographs of youths, but also perhaps because many pictures are shot from a lower perspective.  Shadows become voids that figures of light emerge from in some photographs, or figures are darkened against planes of light. Walking Speed Images seem to be carefully composed views of observations made while traveling, but not traveling as a stranger. Influenced by art history, Kapanen's eye is clearly trained to moments which showcase a poetic magnitude.
Larukana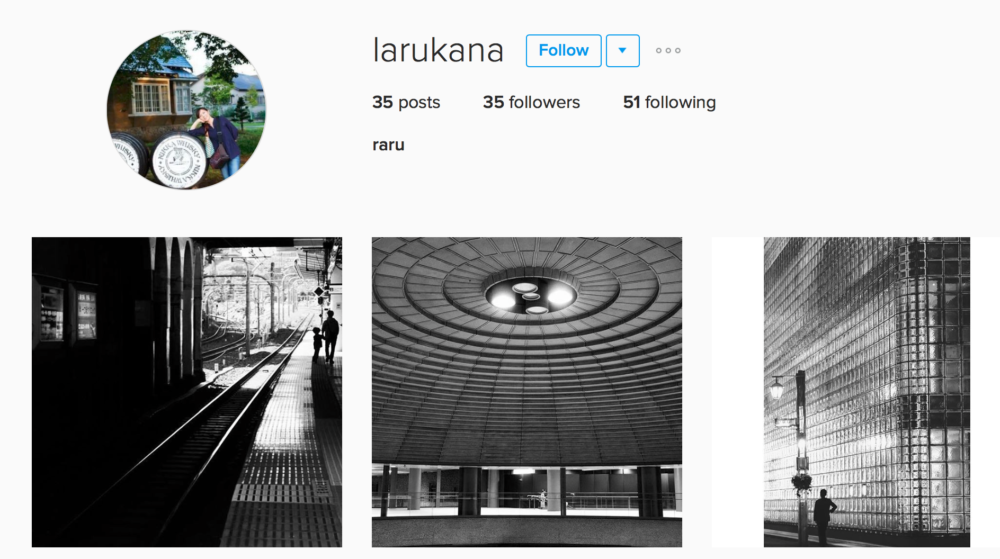 What is most compelling about these images are the many repeating elements that Larukana has captured, and the way these images relate to one another. A gorgeous grid is created by the graceful shapes of spiral staircases, rows of lights, or other elements of architecture. Ribs of light from an arched ceiling are also make particularly interesting shapes. The images that are in color also are rather monochromatic, an interesting element to this feed. In each image, there is an element that almost seems to be floating, sometimes because of the way a line curves just so or the composition is just tilted, but just as often because Larukuna has seemingly frozen her subject in mid-breath.
Lead image by Walter Rothwell